Trends in Contemporary Bathroom Design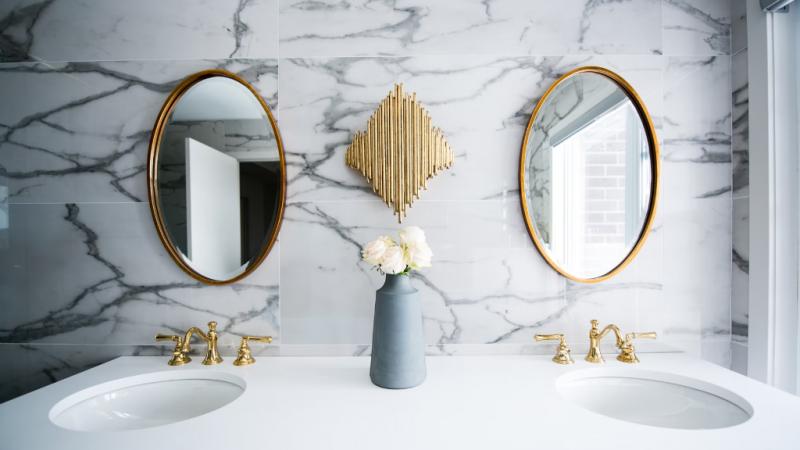 There has been a considerable resurge in home remodeling projects in the age of the 'new normal', with homeowners in the US spending approximately $59 billion on remodeling their bathrooms alone in 2020. Homes are increasingly being experienced as an oasis, an ideal staycation spot, and the ultimate place in which to relax and de-stress. As such, many homeowners are installing home gyms, saunas, steam baths, and other spa-like features in their abodes. The bathroom has become one of the key rooms in this home, owing to its ability to provide individual homeowners with a personal space where they can get away from it all and work on health, beauty, and pampering. If you're thinking of giving your home a new look, keep your eye on the following trends in modern bathroom design.
Mad About Biophilia
The biophilic design philosophy aims to harness the calming, healing effects of nature by bringing pieces of the Great Outdoors in. This trend commences with natural light, of which there should be an abundance in all rooms. Opaque walls are being knocked down and replaced with large floor-to-ceiling or sliding glass doors. In cases in which privacy is an issue owing to the layout of a specific home, windows are at the very least being aggrandized so that home dwellers can contemplate beautiful sea or mountainside views when they are available.
It's Easy Being Green
Biophilic design also involves embracing natural materials like stone, reclaimed wood, ceramic, and marble. As such, in a contemporary bathroom, you may find an attractively veined marble statement wall in the shower and marble-framed bathtubs. Finally, fill this unique space with plants, both at floor level and hanging from the windows or ceilings. Consider dedicating one wall to a green, living wall. Just a few plants that will thrive inside a bathroom include bird's nest fern, pothos, Chinese evergreen, and gardenias. Make sure plants are non-toxic to little children and pets when making your selection.
Statement Walls
Bathrooms don't have to be confined to marble when it comes to introducing elements of artistry and a sense of connection with the natural or fantasy worlds. Trending statement walls comprise elements such as large, glass-covered artworks, hand-painted murals, and tile and mosaic art. Also popular and more affordable than bespoke murals is bathroom mural wallpaper, which is made with materials that resist humidity.
Improved Health
Bathrooms are taking on a spa-like feel; one in which relaxation, mental health, pampering, and enhanced hygiene are prioritized. Think of a visit to the bathroom as one that can potentially last an hour or longer, thanks to items such as whirlpools with massage jets, saunas, chromotherapy (the use of colored lighting and other features to enhance mood) in tubs and showers, and soaking and flotation tubs. Also, as wonderful as a soft hand towel feels, the reality is, smart hand dryers are becoming a preference, mostly because they enable dwellers to avoid coming into contact with bacteria and other substances that can spread from person to person when towels are shared. These dryers contain features such as low noise technology, UVC light cleaning protection, and energy-saving attributes.
Shower Benches and Niches
Homeowners investing in jet showers know that time in the shower is bliss. To extend their comfort in this appealing part of their home, they are opting for convenient features like benches and multiple niches for storage. These niches, which are essentially rectangular recessed spaces in walls, often contain statement features such as creative tile work that complements or adds a pop of color to the overall design. Dwellers after a spa-like bathroom are likely to have a host of pampering products in their collection, and having them handily stored within the shower is a big help.
Heated Tile Flooring
Nothing beats stepping into a bathroom at the end of a long working day than a warm floor in the winter. Underfloor heating is an indispensable element in most modern bathrooms, with tiling available in a host of different finishes in styles—currently, wood effect tiles in hues like light gray, cream, and light wood are top sellers. These floors do more than provide relief for your feet; they maintain a consistently pleasant temperature in the bathroom and enhance the steam shower experiences because they maintain the airspace warm. As you step out of your tub or shower, you won't experience the usual chill that can mark the end of the most relaxing experience of your day.
Bathrooms are a commonly renovated area of the home, especially in the era of the new normal. Homeowners are seeking to turn their bathrooms into veritable spas and art galleries, in an attempt to de-stress and regain focus and energy. They are also creating closer connections to the natural world by embracing the tenets of biophilic design.
comments powered by

Disqus