Tips for Buying a Pre-Construction Condo In Toronto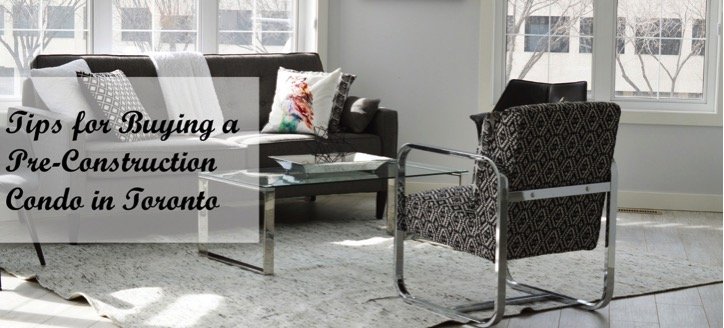 Whenever you look at the skyline of downtown Toronto, you're likely witnessing several different condos being erected. And there aren't any signs of the condo boom slowing down.
In today's real estate market, purchasing a condominium is a lot cheaper than buying a detached home in the city. With the average detached house coming with a price-tag of $1 million, a two-bedroom suite can cost around $300,000. This is a lot more affordable for the average family.
Because of this, you're in the market for a condominium. With this in mind, you have two options: purchase a resale unit or buy a condo in the blueprint stage.
There are benefits to both, but when you want everything to be new, unused and completely yours then a pre-construction condo should be selected. Of course, there are several aspects that you need to be aware of before you visit those model suites by developers.
Here are five tips for buying a pre-construction condo in Toronto:
20% Minimum Down Payment is Necessary
Unlike resale condos, which require a down payment as little as five percent, pre-construction condos demand a minimum down payment of 20 percent – some request 15 percent.
Although it is a lot easier to accumulate a 20 percent down payment for a $300,000 condo than a $800,000 semi-detached house, it can still be difficult to pile up the funds. This is why you need to determine if a pre-construction condo is right for you or if you should locate a resale suite based on cost alone.
You May be a Tenant Paying Rent
One of the reasons why we purchase property is because we don't want to throw money down the well by paying monthly rent for an apartment. If this is just one of the reasons why you're moving into a condo then you need to be ready to be a tenant and pay rent for a bit longer.
Many condos are move-in ready, even before the build is fully constructed. However, since the building is not allowed to be set up as a condo corporation, you will be renting your suite from the developer rather than owning it and paying a mortgage for the next little while.
It is hard to fathom and contend with, but this is the reality of pre-construction condos.
Pre-Construction Condos Come with HST
Resale condos are not subjected to the HST, but new-built condos are. This means that you will need to budget for the 13 percent sales tax added to your purchase. It should be noted, however, that you may qualify for the GST/HST New Housing Rebate program.
Be Ready for Delays
The developer may have a completion date target of autumn 2017, but more often than not, it will be delayed and pushed back to spring 2018, then fall 2018 and then winter 2020.
It can be rather frustrating to constantly experience a delay, but this happens. When you visit a sales agent, and see a model suite, be sure to remind yourself that it will be another couple of years before the entire building has been fully erected.
Changing Your Mind Over a 10-Day Period
In Ontario, every purchaser of a new condo is given a 10-day cooling off period so they can reconsider their decision. During this time – it's calendar days and not business days – you should see an attorney, receive financing pre-approval and determine if you can afford it.
This is truly a benefit to ensure that this is something you really want. Remember, it is a major responsibility and obligation to own property – mortgage, property taxes, condo fees, etc.
With the plethora of condos being built today in Toronto, you have a buffet to choose from. What's great about it is that you don't need to worry about buying a condo that has already been lived in – you have a new suite for you and your family: new floors, new fridge, new foyer.
Like anything else, there's a wide variety of pros and cons, risks and rewards of buying a pre-construction condo, most of which is pecuniary-related.
That said, as long as you crunch the numbers, do your due diligence and know that you prefer a condo to a house, you can be confident that you have made the right decision.
comments powered by

Disqus