7 Moving Tips for a Person Living with a Disability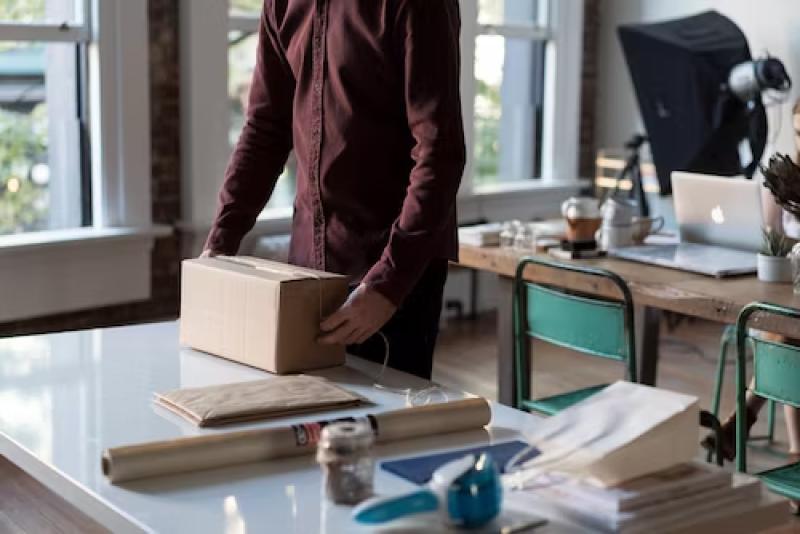 Moving home is tiring. With all the labor work it requires, moving home can be exhausting for your body and your mind. There is a lot of planning and packing involved.
But, when you have a disability, moving can be a bigger challenge. It is More than just shifting your luggage from one place to another.
If you have a disability and want to move home, it's not all gloom and doom. Luckily, you can take professional help, plan, and prepare to make things run much smoother. We have created a comprehensive list of 7 useful tips to help you move home smoothly, even with your disability.
7 Moving Tips for a Person Living with a Disability
Check out these effective tips to make life easier for a person with a disability.
1. Find a Home with Easy Accessibility
This is crucial! Even before you start to think of packing, have a detailed look at your new home. Your new home should have easy access. It should include everything that you need. For example, if you use a wheelchair, your new home should have wide doors and a ramp for your wheelchair to pass through.
Make a checklist of how your ideal home should be accessible to you. You can then use this checklist to ensure all your needs are met. This also means you can get any temporary or permanent modifications to your new home. For example, if you are buying a new house, you might want to install a stairlift or home elevator to make mobility between floors possible.
Tip: If you don't mind spending a few extra bucks, we suggest you hire a professional to make all the necessary accessibility changes.
2. You Have Rights as a Tenant
It is crucial to know your rights as a renter. When you have a disability, the importance of knowing your rights increases. For example, you can ask for a designated parking space near your home.
If you live alone and have certain mental health disabilities, you can request permission to keep a service animal even when the owner doesn't usually allow home animals.
According to The U.S. Department of Housing and Urban Development, for people with intellectual, mental health, or developmental disabilities, there are multiple modifications that they can avail of:
Requesting assistance setting up the paperwork or any government offices they have to visit for legal issues.
Requesting the landlord help with miscellaneous support services such as a helper or a cleaner.
Aligning the rental deadline with their disability payments.
3. Create Notes – A lot of them.
Moving home is a complicated process. It only gets more difficult for people with disabilities. And there are a million things that need to be done during the process of moving home.
So, you should keep a physical list of tasks, resources, and categories of items that have to be moved.
Having a list that has all of the phone numbers of companies with relevant services is always a lifesaver. For example, you can keep the contacts of nearby cleaning services or plumbing companies. Especially if you have physical disabilities or you are in a wheelchair.
Another important thing to write down is how you categorize your belongings. For example, you can create a time series about what items to pack and unpack first. You can pack your wardrobe first, your kitchen goods second, your makeup items third, and so on. This will make things much more organized, and you will always know how much progress you have made.
This technique becomes even more handy when you are unpacking. You will know what to unpack first.
This brings us to our next tip. How do you know what to pack first and what to pack last?
4. Declutter into Categories
What do you pack first, second, and third? What things should you leave until the end? This step is crucial in moving home.
We recommend doing one room at a time. Scatter all of your belongings out in the room. Empty all of your drawers. This is where you start categorizing. Now that you have a bird's eye view of your belongings, you can organize them into five categories:
Keep
Declutter
Donate
Sell
Give away to your loved ones
Pick each item from your scattered belongings, and ask yourself three questions:
Am I using it regularly?
Do I have any emotional attachment to it?
When was the last time I used it?
It's best to eliminate as much unused stuff as possible. Cutting down on your belongings will cut down on your luggage when moving home. It will also make organizing things easier, especially when you are unpacking later.
This step is the most time-consuming as you have to organize every little thing in your luggage. We recommend starting with the most non-essential items. These will be easier to eliminate, and you can quickly move to the more important items.
Categorizing your stuff can make moving home surprisingly easier. You will find that you are more organized and have clarity about what you want to keep in your new home.
5. Labeled Boxes Make it Easier
Labeling your boxes is easily the most important part of your moving home to-do list. Now that you have categorized your belongings, put them into separate boxes with clear labels on them. This will prove to be a lifesaver when you are unpacking. If you put the kitchen items in a box, clearly label it as "Kitchen dishes, utensils, etc."
Another key to efficient packing is numbering your boxes. This will help you count the boxes when you arrive at your new place. Ensuring that you haven't left anything behind.
Such a strategy of organizing your luggage can also help any professionals you have hired to help you shift boxes without driving you insane with constant questions!
6. Pack an Overnight Bag
When you move into your new place, you won't be unpacking all your luggage in one night. Unpacking is a long and tiring process. Even more so than the packing because, as you unpack, you have to put your belongings in the right places.
That's why you should make yourself a separate overnight bag with an outfit or two and your daily toiletries. If your new home is far away, you should also put in anything that you might need during our journey.
Also, put your phone chargers and other devices you might need for work in this bag. This will save you a lot of head-scratching when you reach your new home. It allows you to take your sweet time for unpacking.
7. Choose the Right Moving Company
Choosing the right moving company is half the job done. Make sure you do your research in choosing the moving company that suits you best. If you have a physical disability that limits mobility, choose a moving company offering a complete package, including packing, moving, and unpacking services. Professionals can also ensure that your belongings are safely transferred to your new place without any damage.
While searching for moving companies, go for those with some experience with moving for people with disabilities. Some companies offer special expertise like disassembling and assembling larger furniture.
So, choose a company that can do it all for you. This might cost some extra bucks, but you will be able to move without any hassle.
Final Words
Moving to a new place can be an uphill climb. Even more so when you have a disability. It's crucial to ensure the safety of both your luggage and yourself.
So, know your rights, don't hesitate to ask for help, and organize your stuff in a manner you remember when it's time to unpack. Creating lists and documenting all tasks while moving can lubricate the process. If you do these things correctly, you will get the job done without overburdening yourself.
comments powered by

Disqus