Paint by Numbers: A Complete Guide
What is Paint by Numbers?
Paint by Numbers is a conventional practice that makes the painting process comparatively easier for newbie's. To begin with the painting, the crafter must buy paint by number kit available online and in art stores. The kit includes an artboard, more commonly known as a canvas, which divides a picture into shapes and light markings that specify different areas. The canvas involves marked boxes that correspond to the number on the provided paint bottles used in the designated area. People often ridicule the art style as being uncreative. However, it is methodical, and its completion requires a great deal of concentration until the printed image turns out as a finished painting. Completing paint by numbers project helps the crafter learn to inspect a subject. It helps move away from focusing on what the finished painting will look like to considering small areas and deciding on their fill color. Moreover, paint by numbers has gained popularity among people of all generations due to its simplicity; it is good for your body and mind and it's the easiest way to scout a hidden artist in you.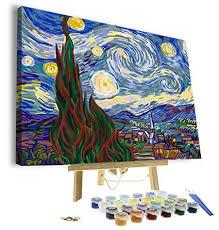 What does Paint by Number kit include?
Paint by numbers kit includes a brush, small bottles of paint, and a printed outline of the picture. The paint bottles might seem insufficient. However, they must be enough for you to complete your painting. You can feel free to use any other available acrylic or oil paint as needed.
Most kits come with the following items:
A Canvas.
Tabletop easel included only in the framed versions.
Paintbrushes of different sizes.
It also includes a colored miniature of the original picture and a guide.
Numbered acrylic paint sets of thirty separate colors. The numbers match the numbers on the canvas for respected areas.
Mounting Hardware is included only in the framed versions.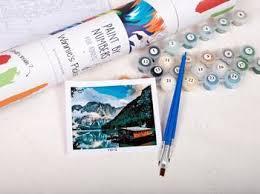 Things to do before Starting your kit
Find a comfortable and adequately lit room in which to paint. The more detailed the design, the more minute the numbers and spaces might be. A magnifying glass and lamp can be helpful.
Get a comfortable desk in which to paint. Being hunched over for long periods can be bad for your back and neck. It is better to switch desks or places and positions while painting.
Make sure to clear or desk space and organize the paints according to your requirement to ensure efficiency.
Taking a digital picture of your canvas or simply scanning it using available apps gives you a permanent reference of your painting outline if your canvas gets disrupted or crumpled.
The Steps to Paint by Numbers
To fully understand the requirements of this craft as a beginner, we need to make sure that the instructions explained are as simple as possible. With that, you can always create a piece of art that is unprecedented and unwinding. Let's inspect some vital steps to create your masterpiece using paint by numbers.
You must be excited to get your hands on your very first paint by numbers kit. However, you need to be careful while using the materials. Firstly, layout the brushes, paint bottles, and canvas on a flat surface. Organizing your desk may be helpful. The canvas might have wrinkles, and to cure that, use heavy books to straighten it.
Secondly, ensure that the canvas is held firmly to the desk or a flat surface to make your painting process more efficient. Other than that, mask tape any excess areas on the canvas. Next, fill up two cups of water, one for dirty water and the other for clean water, to remove any existing paint color before another is applied. You might also require a few paper towels to dry the brushes and clean them.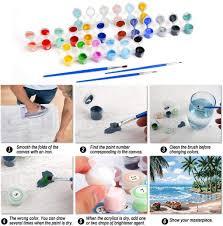 In your paint by numbers kit, you will find some numbered paint bottles, which mostly range from 1 to 24. The number of paint bottles varies with different kit sizes. At this point, you need to match the numbered paint pots with the pre-numbered areas or boxes on the canvas. For example, the black color pot has the number 3 on it. You will have to fill in the areas with the number 3 with the provided black paint. You should paint in one complete set of numbers at a time before moving on to the second color.
Moreover, it is better to start painting with the darker colors, proceeding to the lighter ones. Similarly, make sure to paint from top to bottom on the canvas to prevent the paints from mixing. In addition to this, it is cardinal to use the tip of the paintbrush while painting to make the process more precise.
There are some paint pots in the kit that often come unnumbered or with a gray dot. In this case, paint the areas on the canvas without numbers using this shade. If the blank part has a gray dot, paint it with the gray paint bottle. Make sure to use a damp brush before dipping it into a paint pot. Use the two cups of water to achieve a cleaner result.
Sometimes, some numbers on the canvas might be visible underneath the paint due to an opaque paint shade. A solution to this is using white paint or a white crayon to hide the number and obtain a cleaner finish.
What to do once done with the painting?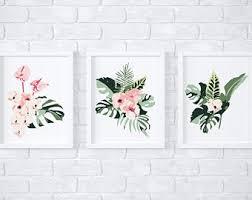 After completing the painting, there are different ways to showcase your masterpiece. You can hang the finished canvas on your wall. There are two ways to do so. You can either choose from a double-sided tape or a hole in your wall to showcase your art. An adhesive is a better option as it is not only effortless but also affordable. It makes a great ornament and conversational piece. No matter what you intend to do with the finished product, the experience of creating it will be well worth the time and will surely make you try out more amazing paint-by-number kits in the future. These affordable kits come with everything that you need to turn them into a beautiful art piece.
To sum up, painting by numbers is a great indoor activity, which not only stabilizes mental health and provides relaxation, but it is a fun way to bond and make your own affordable Home Decor.
---
More to Read:
comments powered by

Disqus