Dried Flowers: Stylish Arrangements to Decorate Your Home
Sometimes people need unconventional decor for their homes, or perhaps a touch of uniqueness that decorations like floral arrangements in vases just wouldn't provide. When flowers dry, their shape and texture changes. Some florists and dry flower fans use techniques to preserve flowers for as long as a year - say goodbye to constantly having to order floral arrangements, keeping your flowers alive, and changing the arrangements every few days.
The muted colors and effect that a lot of dried flowers offer often make them the perfect decor for any space, especially if the space isn't meant to be too bright, but subtle and calming instead.
In this article, we're going to talk about how you can incorporate dried flowers into your home decor, which flowers look best when dried, and how to care for them. Keep reading!
Drying Flowers
If you want to dry flowers, pick the flowers at late morning. Cut the stems to your desired length, make sure there aren't any extra leaves or twigs, and then tie them up with a rubber band. The reason you need a rubber band and can't use string is because the flower stalks will likely shrink while they dry, and they might become untied if there isn't any rubber holding them together.
Next, you want to hang these tied up flowers upside down in a dark room with good air circulation so they can dry. You want to keep them away from light as much as possible so the flowers can retain their color as they dry. This process can take upto 3 weeks.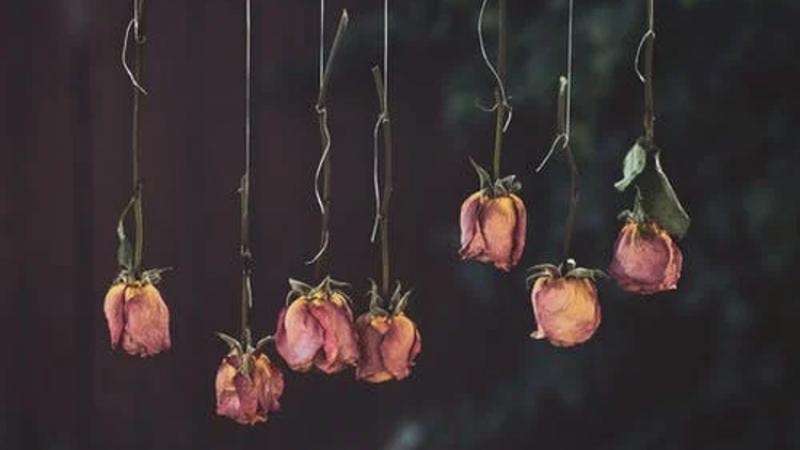 Once the flowers are dry, spray them with unscented hairspray to preserve them properly.
What Flowers Work Best?
Not every flower is going to give you the same result when dried. You also need to find the exact right moment to cut the flowers and dry them, because drying them when the flowers are just starting to bloom will make them dry slower, and drying them when they're fully bloomed will make them fall apart and not hold their shape well. The perfect time, usually, is when the flowers aren't fully bloomed yet but nearly there.
For picking the flowers, we suggest waiting until late morning when the dew on the flowers has dried up.
Here's a list of flowers that are usually used in dried flower arrangements:
Globe thistle
Sundaze blaze strawflower
Baby's breath
Pansies
African daisies
Dragon's breath
Lavender
Hydrangeas
Here are the various ways these flowers are used in home decor.
Glass Pressed Flowers
Dried flowers are often pressed in glass to make some very striking decor pieces. Softer flowers like African daisies and pansies are often used in these glass arrangements as well as the more common ones used in fresh flower arrangements, like roses.
For this, you will need to press the flowers under a weight before you let them dry. Once dry, the flowers will be ready for you to place in glass sheets and displayed as hanging decor, on tabletops, and on shelves.
Dramatic Centerpieces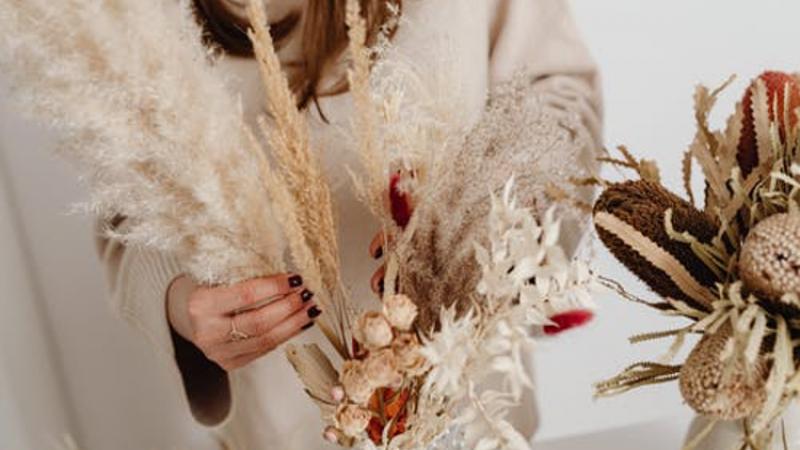 Dried flowers can be arranged in a whole variety of ways to make dramatic and striking floral arrangements. These can be used as centerpieces on the dining tables, in living room, and in bedrooms.
Use flowers like Dargon's breath and Sundaze blaze strawflowers as the main ones, and then fill the arrangement up with things like baby's breath, leaves, and twigs. You can make arrangement in a while variety of styles, shapes, and colors and they'll last you about one year.
Most commonly, the understated colors go well with antique themes and darker decor more than they do with fresh and bright interiors - though lavender and baby's breath bouquets would be a good fit for a brightly lit room.
Simple and Understated
Think about how globe thistle would look when dried and placed in a cylindrical vase and complemented with some dried leaves around it. Arrangements like this look simple and fit well when placed on the coffee table of the bedside table.
You can alsp make dried flower arrangements that contain just one or two dramatic blooms surrounded by some fillers, place them in small glass containers and use them to add some life to smaller surfaces.
Preserved in Resin
If you feel like you want to make your dried flowers part of your home for even longer, consider preserving them in clear resin. Your flowers will look beautiful in decor pieces, picture frames, phone covers, and serving trays for your food.
When preparing flowers for preservation like this, you need to follow the same steps you did when you were making glass pressed arrangements. You can even make necklaces and jewely out of resin using very small flowers preserved in the pendants or earrings.
Floral Wreath
Who says wreaths are just for the holidays? If you're a fan of the circular floral arrangements, you might want to try out a dried floral wreath.
They look understated, neat, and very interesting as first, but care needs to be given to their making and placement to not make it look like you just leaft your holiday wreath hanging at the door for too long!
You can place a whole variety of colors in the wreath, and add elements like dried berries and smaller flowers to give it color. The easy thing about dried flowers is that since they last a while, you can use a little glue to make sure that some of the elements in this wreath stick together.
---
More to Read:
comments powered by

Disqus