Apartment Living: 5 Hacks to Create a Spacious Living Room Layout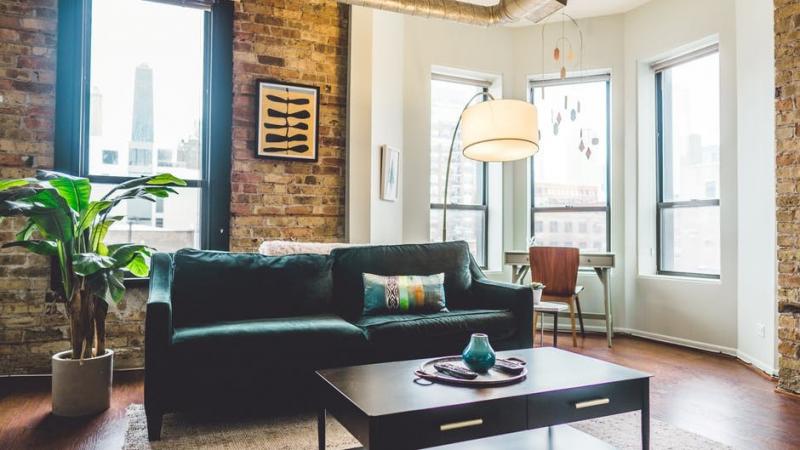 Here's how to create a spacious living room layout in your apartment -- even if you a bit pressed for space. Check out these 5 handy hacks, here...
37% of United States renters live in apartments. While not all apartments are pressed for space, many are, meaning many people might be trying to make the most of a tight room.
If you're one of the many apartment renters in the world, you're probably working with a pretty small living space and wondering how you can maximize it. Whether you're looking to fake a spacious living room or turn a studio into a fully-fledged living space, these tips might be for you.
Here are 5 useful hacks to create a spacious living room layout.
Use Small, Multifunction Pieces
While big and clunky furniture can certainly be cozy, it isn't exactly functional. Swap out some of your larger pieces for smaller ones that can serve multiple purposes.
For example, fabric-covered dining-room chairs can also be arranged in the living room if the two are connected. They can be moved back and forth depending on the needs of the space. Do you have extra guests for dinner? Bring them to the table!
The same is true for things like ottomans which function as both seating and storage.
Consider Your TV Placement
Often times, the entire living room revolves around the television. Sometimes this is restricted by outlets or cable, but if you put a bit of research into antenna point installation you might be able to place your television a little bit more creatively.
If the originally intended location really cuts off the rest of your space, consider moving it around! Even just centering your entertainment area in a different part of the space can give the illusion of a more spacious living room.
Use Mirror Magic
This one uses a little bit of a trick of the eye, but mirrors are great for making small spaces seem just a little bit larger and looks better.
Strategically placed mirrors will bring more light to your room and give it a feeling of openness that small rooms desperately need. Even if you're limited by your walls, you can give the illusion that you have a bit of spare room.
Utilize Your Walls
According to experts who write for us on home improvement, If you want to keep your floorspace nice and roomy, consider moving to the walls for some of your storage or decor.
Now is the time for hanging shelves and gallery walls. You can't give up any room on the ground for anything but essentials, so trinkets, art, and small stored objects like books and photos can be delegated to the wall space.
Lucky for you, this move looks completely intentional and not at all like you're just trying to save room.
Stack Your Stuff
Have you seen the trend of cool stackable and hidable furniture pieces? You don't necessarily have to get them in sets, like some magic matryoshka doll furniture, but find things that stack well together and use them. Just like you can save money with the right methods, you can save your space at home.
For example, ottomans or small poufs that stack directly underneath a living room table? Perfect for saving space when you don't have company and using that furniture when you do.
How Will You Give the Illusion of a Spacious Living Room?
Not everyone has the luxury of a giant living space, and sometimes you just have to make do with what you have. With a little bit of creativity though, you can make the most of your small spaces and get the look and feel of a spacious living room even in a tiny space.
For more posts like this on apartment living, check out the rest of the blog.
---
More to Read:
comments powered by

Disqus