5 Layout Ideas For a Modernized Kitchen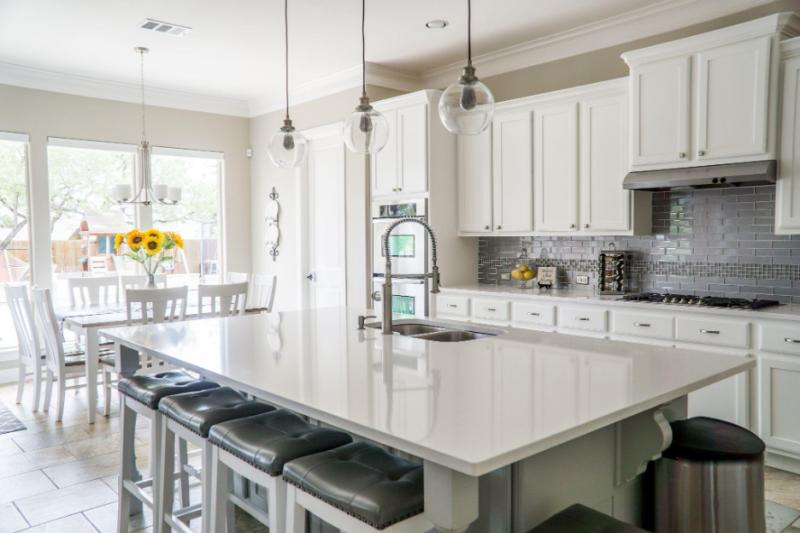 Source: pexels.com
Remodeling your kitchen can be both a thrilling and stressful time, especially if you still haven't made some decisions on the design. Every day, there are new trends, new design ideas, and new color schemes, which can make the decision process more difficult. Fortunately, there are some timeless kitchen layout ideas that will never get old, nor will they go out of style. We have curated a list of 5 layout ideas for a modernized kitchen that will hopefully help you make the best choice for your kitchen. So keep on reading to find out more about your new possible kitchen layout design.
1. Corridor Kitchen Layout
We're a fan of any idea that makes good use of small spaces, and that's exactly what the corridor kitchen layout is. Say you have a narrow space for a kitchen; you're panicking because you don't feel that there is enough space for all the cabinets you need. Well, that's where the layout experts arrive. You can design your kitchen layout in a cabinets-facing-cabinets way so that when you walk through the corridor-spaced kitchen, you'll have plenty of space for all the cabinets you need.
2. Classic One-Wall Kitchen Layout
One can never go wrong with a classic kitchen design, which in this case, is the one-wall layout. This design idea has been around before kitchen islands and seating areas in kitchens, but it's the one design that will simply never go out of style. It's incredibly easy to design, and it costs a lot less money than going with a more complex design. This layout idea works well with both small and big spaces, so it's only a matter of preference. Plus, all the electrical services can be clustered together in one wall, which is pretty convenient and easy to plan.
3. L-shaped Kitchen Layout
This layout idea is one of the most versatile and flexible kitchen designs you could possibly go for. The L-shaped kitchen layout is perfect, especially for bigger spaces, because it fills it elegantly. The two adjoining walls that form an L-shaped layout hold all the cabinets and countertops, which makes it easier for you to get around your kitchen while you're cooking. Plus, with this layout design, you can easily input a kitchen island which is not only convenient for cooking, but you can also implement a seating area around it.
4. U-shaped Kitchen Layout
The U-shaped kitchen layout is similar to the corridor layout, except the space can be bigger, and the end wall includes all-around cabinets. Although with this layout, it may be difficult to include a kitchen island and seating area, it's perfect for workflow since the three walls include countertops and cabinets, which is really convenient. This kitchen layout is popular and can be a great design idea to modernize your kitchen and make use of a bigger space.
5. Double L-shaped Kitchen Layout
You've heard of the L-shaped kitchen layout; now it's time to learn about the double L-shaped one. This design layout is bound to modernize your kitchen since it allows for two workstations, which means that two cooks can easily work together without slowing down the pace. Of course, for this design layout, you'll need to have a bigger space to implement the two separate workstations and possibly even two different sinks and other appliances. If you've got a bigger budget and you want to splurge on a nice-looking kitchen with plenty of countertop space, the double L-shaped kitchen layout can be the perfect choice for you.
Which Kitchen Layout Should I Choose?
Once you learn about all of these amazing choices, you realize how versatile your kitchen layout can be. If you're still not sure which kitchen layout is right for you, we can also help with that. You should consider three things when picking out a kitchen layout: your budget, the space, and how much cooking you would be doing. If you've got a smaller budget, don't have much space, and you're not much of a cooking enthusiast, a good choice for you might be the corridor kitchen or the one-wall kitchen layout. Or, if you love to cook every meal at home and even invite guests over from time to time, a good choice might be the L-shaped kitchen layout since there's enough space for a kitchen island and to put some stools around it so you can hang out with your friends while you cook. All in all, these are all some pretty great and versatile choices that will definitely modernize your lovely kitchen.
comments powered by

Disqus