25 Simple Tricks to Make Your Bedroom Feel Extra Cozy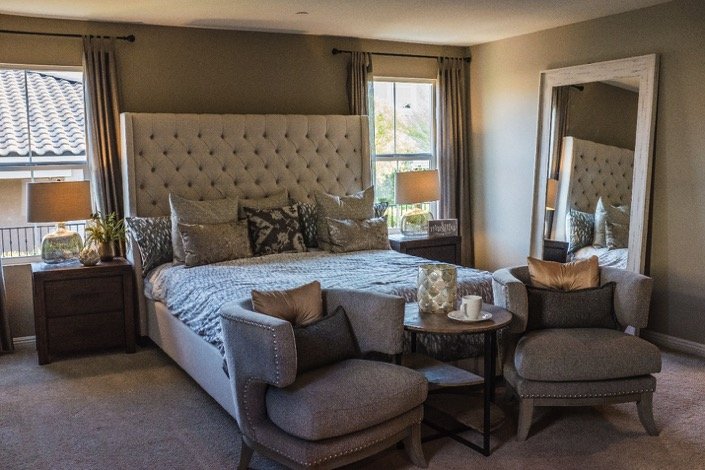 Our bedroom is our relaxing reprieve from the world. It's a haven for most of us. This is where we spend most of our time with. Aside from the average of eight hours of sleep in a day, you probably stay there during your rest days and day offs, or whenever you have nothing else to do. Hence, having a comfortable and cosy bedroom is crucial. So the question now here is: How are you going to transform your usual boring room to a better and cosy one? Channel your inner artist and read on, the list below will surely help you.
Decorate with Antiques
There is no modern-style furniture that can match or replace the beauty of antiques. Antiques equal timeless quality. These things like wooden prime floors have the ability to give a warm vibe to your bed room. You can find many things from many antique shops around. Bring the glamour and elegance to your bedroom and give it a rich and traditional look aristocrats enjoyed in the past using antique decorations.
Choose Calming, Peaceful Art
If you opt to put paintings and other art materials instead, it can be a really good choice given that the colours should create a serene and peaceful vibe like blue, green, and grey tones. Avoid vibrant colours like orange, yellow, and red.
Use Color to Make the Space More Restful
If you are choosing an overall theme of colours, warm neutrals should be the go to colours. May it is your wall paint, bed sheet and pillow colours, and other things, light to mid-tone greys, browns, and beiges will be perfect. These kinds of colour can help you have that peaceful ambience inside your room.
Use Comfy Rugs
Most people ignore the importance of rugs. Rugs will be the first one to greet you upon entering your room so you may want to get that welcoming feeling by stepping on a very comfy rug. It can serve as a nice place to step your foot on and you can also get more creative with the design.
Give Artificial Candles a Try
Candles can really cause a very elegant effect on the surroundings. That is the reason why dinner in candle light looks really sweet, you can use this effect to your room but if you are worried about burning candles during your sleep, an artificial candle can be a great alternative.
Add Some Plants
Indoor plants can really help bring a backyard or a garden mood inside your house. Choose low maintenance plants like cacti, succulents, and other air plants. Additionally, it can really look good when it is well thought off.
Add Warm, Natural Materials Wherever Possible
Whether you are renovating your room or you are just adding something to decorate it, try to use natural materials like wood, rattan, stone, wool, and such. On the other hand, avoid materials that reflect or those that are made of plastic as these make your room look fake and manufactured.
Make Your Bedroom Truly Dark for Sleeping
If you are having a hard time sleeping, darkness can help. Curtains to block the lights from your windows are crucial especially if you are a light sleeper.
Hang Decorative Tassel
Tassel art can really be a good addition to your home. You can do this by yourself and you can add more textures as well as deepness in your room.
Bring Books In
Aside from darkness, books can really be a great aid when having a difficulty in sleeping. Aside from this benefit, adding a small bookshelf full of books and novels in it will make your room look smarter.
Use Accent Lighting
Putting too much overhead lighting is really unnecessary, like what's already stated above. You can choose a variety of bed lamps that can give you a texture of light that will fit your taste. Just remember to use only low wattage bulbs and well-made lamps to maximise its effect throughout your room.
Create a Reading Nook
If your room is large enough for a small table, might as well put one so you will have a comfortable reading area inside your room. Although, some just chooses a soft sofa to cuddle in to read.
Decorate for the Seasons
If you love the holiday seasons, you should not limit yourself to have it feels in your own room just a few times a year. Say you like Christmas or Valentine's Day, you can use those as inspirations in designing your room. A simple bouquet of flowers could definitely add warmth and a festive mood to your bed room. You may not want to overdo these things though.
Use Glass Containers for Candles
If you still want to have real candles compared to artificial ones, you can add safety by using glass as its containers. Not only it can protect you from a fire break out, you can also use these containers to decorate your room.
Fill a Basket with Throws
Blankets can literally add warmth to your room. Put it in a basket to add a more distinctive look for instant appeal.
Keep Technology Out
According to studies, the blue light that modern gadgets like phone, computer screens, or TV can result in difficulties in sleeping. Aside from that, you may get tempted to use them and you will not notice that it is already too late. So better keep them out of your bedroom.
Combine Neutral Colours and Pastel
Avoid bright colours and garish tonnes when it comes to your furniture and fixtures. Use natural and pastel colours like white and cream.
Decorate with Vintage Style
Old-fashioned design still rocks in this modern day. Because of its laid-back colours and interesting mixture, you can have a creative and relaxing feel in your bedroom.
Consider Wallpaper
If you are a busy person, this can be the easiest thing you can do to decorate your place. There are tonnes of wallpaper designs available out there that you can choose from so you can really customise your room according to your own taste.
Buy a Good Mattress
None of these listed things will matter if you are lying on a bad mattress. Manufacturers suggest changing your mattress every 5 to 10 years to avoid body pains. Water proof mattress can be very helpful, too.
Incorporate Fabrics beyond Standard Bed Linens
Fabrics are not just used as a bed linen. You can also be a creative decoration to your blankets. You can also put them at the back of your chair and add some pillows that will match your overall theme.
Banish Laundry
If the first thing you will see in the morning is clutter, you might have a bad day ahead. One of the best ways to keep your house clean is get rid of those dirty clothes in your bedroom. Either fold them neatly or assign a specific place for your laundry outside your room.
Have a Breakfast Tray on Standby
Breakfast in bed can be very relaxing and comfortable. Some people choose a bed and just skip breakfast, but why sacrifice one when you can have both? Put an attractive tray nearby at all times for convenience and style.
Slip into Something Elegant at Bedtime
After making your bedroom cosy and sophisticated, it will feel right to wear elegant sleeping clothes. You can try a lace-trimmed blouse and a comfortable pyjama set.
Beware of Overstuffing the Bedroom
We understand that you want to put decorations in your room to make it better but always remember not to overdo it because it will look too crowded and you may feel claustrophobic inside.
comments powered by

Disqus