Qatar Real Estate: A Land of Opportunities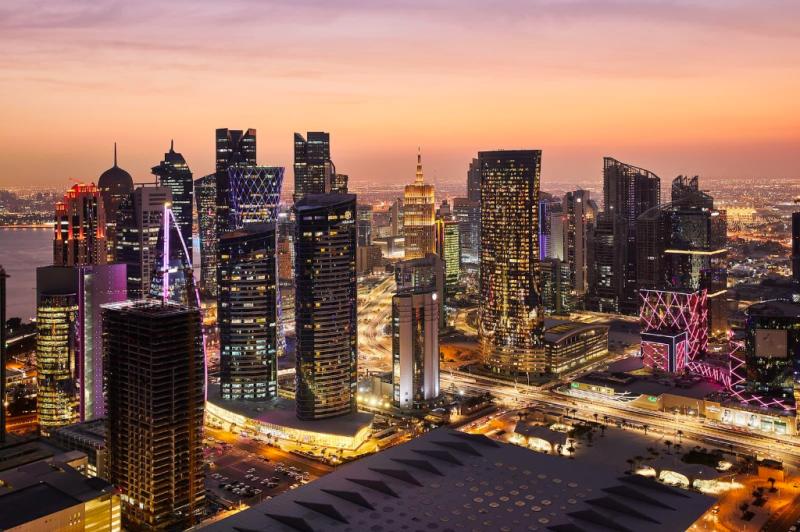 Welcome to the fascinating world of Qatar real estate! Lodged in the heart of the Arabian Gulf, Qatar is a rapidly growing country known for its vibrant economy, diverse culture, and spectacular landscapes. In this comprehensive guide, we'll take you through Qatar's real estate market, exploring its unique features, investment opportunities, and the factors that make it an attractive destination for homeowners and investors.
A Brief History of Qatar's Real Estate Development
In the not-so-distant past, Qatar was a land primarily reliant on pearl diving and fishing. However, the discovery of oil reserves in the mid-20th century marked a turning point for the nation's economy and, subsequently, its real estate sector. With newfound wealth, Qatar began investing in infrastructure and development projects, kickstarting the transformation of its landscape.
Qatar's Economic Growth and Its Impact on the Property Market
The staggering economic growth of Qatar, driven by its vast oil and gas reserves, has been a game-changer for the property market. The influx of wealth and foreign investments has fueled demand for residential and commercial properties. As the nation's GDP zoomed, so did the need for luxury living spaces and state-of-the-art business facilities.
Exploring Qatar's Property Landscape
Qatar's Thriving Residential Market
Luxurious Villas: Qatar's real estate landscape has luxury villas that blend contemporary design and Arabian charm. These exclusive properties provide high-net-worth people seeking a lavish lifestyle.
Modern Apartments: The demand for modern apartments has soared due to a growing expatriate population and a shift towards urban living. These residential units offer a convenient and sophisticated lifestyle.
Gated Communities: Offering privacy, security, and amenities, gated communities have become a sought-after option for families looking for a peaceful and upscale living environment.
The Booming Commercial Real Estate Market
Business District - West Bay: The West Bay area stands tall as the thriving heart of Qatar's commercial sector. A forest of modern skyscrapers houses multinational corporations, financial institutions, and government offices.
The Pearl-Qatar: This iconic man-made island is a residential paradise and a bustling hub for commercial activities. The Pearl boasts a vibrant retail scene, making it a prime business destination.
Sustainable Development Initiatives
Qatar has embarked on a green building journey focusing on environmentally friendly projects. The government encourages developers to obtain green building certifications, which benefits the environment and attracts eco-conscious investors.
Government Initiatives and Policies Driving Real Estate Growth
Behind the success of Qatar's real estate lies its government's strategic vision and proactive policies. The government has successfully implemented initiatives to attract foreign investors and developers. With a focus on sustainable urban development, the government's efforts have created modern and eco-friendly projects, drawing global interest.
Government-Backed Projects and Infrastructure
Lusail City: As a visionary city of the future, Lusail stands as a testament to Qatar's commitment to sustainable urban development. This smart city is designed to be a self-sustained community with modern technologies.
Al Rayyan: With ambitious development plans, Al Rayyan is fast becoming a prominent residential area, offering a mix of modern residences and traditional charm.
The Tourism Factor
Qatar's thriving tourism industry has also played a pivotal role in boosting its real estate sector. As a popular destination for international events and sporting festivals, the country has seen increased demand for hospitality properties and vacation rentals.
Top Locations in Qatar for Real Estate Investment
The iconic West Bay area: The heart of Qatar's business district.
The Pearl-Qatar: A man-made island offering exclusive waterfront living.
Lusail City: An ambitious project with futuristic urban planning.
Al Rayyan: A growing residential hub with a mix of modern and traditional living.
Renting Property in Qatar: Your Gateway to Comfort and Convenience
Renting property in Qatar provides an excellent opportunity for residents and expatriates to experience a rich lifestyle. With a diverse range of rental options, from luxurious apartments to spacious villas, it offers accommodations for various choices and budgets. Before renting, consider factors such as location, amenities, and lease terms. Engaging with a reliable real estate company ensures access to a wide selection of properties and professional assistance. Embrace the charm of Qatar by renting a property that complements your lifestyle and immerses you in this dynamic and welcoming nation fully.
Buying Property in Qatar: A Guide to Your Dream Investment
Investing in property in Qatar is a profitable and rewarding venture. Its booming economy, strategic location, and modern infrastructure offer a stable real estate market for both local and international buyers. However, navigating the buying process requires careful consideration and knowledge of local regulations. Before making your dream investment, thoroughly research the market trends, property prices, and legal procedures. Partnering with us can smooth the process and ensure you find the perfect property that aligns with your needs and goals.
Saakin.qa: Redefining Real Estate Solutions
At the forefront of this booming industry is Saakin.qa. The company's commitment to excellence, customer-centric approach, and innovative solutions have set them apart. It is a platform for buying, selling, and renting properties. It offers invaluable insights into market trends, valuation, and legal guidance, making it a one-stop destination for all real estate needs.
How Saakin Outperforms Competitors?
Extensive Property Listings
Saakin.qa boasts an impressive array of property listings across Qatar. Our diverse range serves a broad spectrum of clients, from luxurious villas to modern apartments and commercial spaces. The website's user-friendly interface and advanced search options make it effortless for potential buyers to find their dream property.
Contributing to Qatar's Real Estate Development
Beyond its successes, it actively contributes to the development of Qatar's real estate sector. The company supports the country's economic growth and infrastructure development by facilitating property transactions.
Conclusion
As we conclude our exploration of Qatar real estate, it's evident that this tiny Gulf nation is a land of endless opportunities for investors, homeowners, and developers. With its visionary projects, strong economic foundation, and commitment to sustainable development, it continues to attract those seeking a successful real estate market. Whether you're looking for a luxurious waterfront home or a promising commercial venture, it offers something unique.
FAQs
Can foreigners buy property in Qatar?
Yes, non-Qatari nationals can own real estate properties in designated areas.
What is the current trend in Qatar's property market?
The market is experiencing steady growth, with a focus on sustainable projects.
Is Qatar a safe place to invest in real estate?
Qatar has a stable economy and is considered a safe destination for investments.
Which areas in Qatar offer the best return on investment?
Locations like West Bay and The Pearl-Qatar are popular for high returns.
Are there any restrictions on renting properties in Qatar?
Some regulations govern rental agreements, but it is relatively simple for expats.
What are the benefits of green buildings in Qatar?
Green buildings promote energy efficiency and environmental sustainability.
How does tourism impact the real estate market in Qatar?
Increased tourism drives demand for hospitality properties and vacation rentals.
What are the key challenges in Qatar's real estate sector?
Market fluctuations and supply-demand imbalances are significant challenges.
---
More to Read:
comments powered by

Disqus